---

Hershel Woody Williams Medal of Honor Foundation
---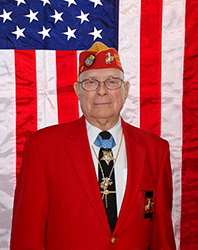 Letter from Woody
As an 18 year old farm boy waiting to go to war to protect the freedom I had learned about in grade school, from a teacher who loved her country, my life and values were impacted by an experience I had as a driver of a taxi in the small community of Fairmont, West Virginia.
During my youth I had a boyhood friend by the name of Leonard Brown. We were near the same age. I wanted him to join the Marines with me, but he elected to go to the Army Air Force. While over seas his plane disappeared and no trace of it was ever found. His family waited 7 long years with hope, all the while he was declared missing in action, before they finally received official word that he had been lost. No trace of Leonard or his aircraft was ever found.
Please share your favorite "Woody" Story!
We would love to hear from you.
---
Calendar of Events
Dec 11, 2014

If Not Me, Then Who…" Gala, The Union League of Philadelphia

Dec 7, 2014

Honor and Remember Gala with Gold Star Families, Virginia Beach, VA

Nov 13, 2014

Medal of Honor Wall of Memory dedicated at the Huntington, WV VA Medical Center.

Oct 24-26, 2014

SkyBall XII, Dallas, TX

Oct. 17-21, 2014

Medal of Honor Golf Classic, Dallas, TX

Sept 30-Oct 1, 2014

Speakers Forum at Naval Academy, Annapolis, MD

Sept. 26-28, 2014

Gold Star Families Retreat Weekend at Camp Dawson, WV

Sep 21, 2014

Gold Star Monument Comes to Valley Forge

Sep 10–13, 2014

National Medal of Honor Convention

Aug 3–8, 2014

Marine Corps League National Convention,
Charleston, WV

May 26, 2014

VFW renamed for Medal of Honor Recipient Hershel "Woody" Williams

Nov 2–3, 2013

2013 Annual Day of Honor - Hope Baptist Church, Toledo, OH (11/2)/Annual Medal of Honor Dinner for Remembrance, Inc.(11/3)

Medal of Honor Recipients Hershel "Woody" Williams and Gary Beikirch will both appear and speak at both events as well as the 11 am service at Hope Baptist Church

Nov 8–11, 2013

94th Annual NYC Veterans Day Parade and Mayor's Veteran's Recognition Breakfast

Medal of Honor Recipient Williams and fellow Recipients will participate in several Veterans Day activities such as the USMC Birthday Gala, Mayor's Veteran's Recognition Breakfast, Veterans Day Parade, and the Nasdaq Closing Bell Ceremony.

Dec 26–28, 2013

2013 Military Bowl presented by Northup Grumman at Navy Marine Corps Memorial Stadium

This college football game brings national attention and support to the Military, Veterans and their families. Woody Williams will do the Official Coin Toss, participate in the Medal of Honor parade and a brunch at the Governor's Mansion in Annapolis, MD.
In the News
Feb 19, 2015

Memorial to honor families of fallen service members

Democrate & Chronicle

Jan 28, 2015

Williams brings message of honoring Gold Star families to Grove City, OH

ThisWeek Community News

Jan 12, 2015

Gold Star Families Monument coming to Greenup County, KY

WOWK TV

Jan 12, 2015

Medal of Honor recipient gives first $5,000

The Independent

Dec 22, 2014

Marines raising money for Gold Star families monument in Kentucky

Stars and Stripes

Dec 20, 2014

Former Marines raising money for Kentucky monument to honor Gold Star families

Marine Times

Dec 16, 2014

Gold Star Families Memorial Monument movement lands in Ashland, Ky.

The Independent

Dec 16, 2014

Hershel Woody Williams and his Foundation support Travis Manion Foundation in Philly

PR Web

Nov 13, 2014

Medal of Honor Wall of Memory dedicated at the Huntington, WV VA Medical Center.

Herald Dispatch

Sep 29, 2014

Marine Corps League Donates To Hershel Woody Williams Medal Of Honor Foundation

WCHS ABC

Sep 19, 2014

MOH recipient's goal: Tributes to Gold Star families in all 50 states

Stars and Stripes

Sep 22, 2014

Pottstown's Price among those on new Gold Star Monument in Valley Forge

The Mercury News

Sep 21, 2014

Gold Star Monument comes to Valley Forge

The Times Herald News

Apr 02, 2014

Students raise money for Gold Star monument

Fox 13 News

Jan 31, 2014

Memorial to laud Medal of Honor recipients

Journal News

Jan 26, 2014

Statewide Memorial to be Built at Valley Forge

Tredyffrin-Eastown Patch