---

Hershel Woody Williams Medal of Honor Foundation
---
Gold Star Families Memorial Monument Statistics
Memorial Monuments Dedicated
17
Memorial Monuments in Progress
37
"WHAT IS A GOLD STAR FAMILY MEMBER"?
"A wife, husband, mother, father, stepmother, stepfather, parent through adoption, foster parents who stand or stood in place of parents, children, stepchildren, children through adoption, brothers, sisters, half brothers, half sisters, aunts, uncles, cousins, nephews, grandchildren and grandparents of a member of the Armed Forces of the United States that sacrificed their life for our way of life, while serving in the United States Military."
Would you like more information about how to
start a project

in your community?"
Gold Star Families Monument Gets
White House Backing
The Hershel Woody Williams Medal of Honor Foundation has a goal, and now it has some pretty strong backing — from the White House.

Read more
---
---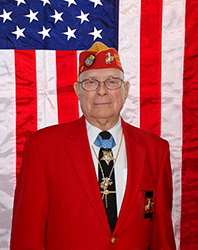 Letter from Woody
As an 18 year old farm boy waiting to go to war to protect the freedom I had learned about in grade school, from a teacher who loved her country, my life and values were impacted by an experience I had as a driver of a taxi in the small community of Fairmont, West Virginia.
During my youth I had a boyhood friend by the name of Leonard Brown. We were near the same age. I wanted him to join the Marines with me, but he elected to go to the Army Air Force. While over seas his plane disappeared and no trace of it was ever found. His family waited 7 long years with hope, all the while he was declared missing in action, before they finally received official word that he had been lost. No trace of Leonard or his aircraft was ever found.
Please share your favorite "Woody" Story!
We would love to hear from you.