The Hershel "Woody" Williams Medal of Honor Foundation is pleased to share this initiative created and carried out by all of the Recipients of the Congressional Medal of Honor.

Each year, Recipients of the Congressional Medal of Honor – our nation's highest award for wartime acts of valor – reach out across the nation to find unsung citizen heroes. The Recipients believe Americans need not serve in the military, nor be in combat against the Nation's enemies, to demonstrate the traits embodied in the Medal of Honor; courage, sacrifice, selflessness, and patriotism. The Citizen Honors program takes nominations each year for hometown heroes who have gone above and beyond for their fellow man in some extraordinary way, by risking their lives in a single grave situation, or through a lifetime of service to others.

After a judging process conducted by the Recipients themselves, three Citizen Honorees are chosen and recognized at a ceremony at Arlington National Cemetery on Medal of Honor Day on March 25th.
Citizen Service Before Self Honors
About the Citizen Honors Medal
The Citizen Honors Medal is taken from the Tomb of the Unknowns at Arlington National Cemetery. There, anonymous soldiers lie in eternal rest, all having been presented with our nation's highest award for valor in combat, the Medal of Honor. On the front of the Tomb is a sculpture of three Greek citizens, representing the virtues of Peace, Victory and Valor. To show the link between anonymous heroes in uniform and hometown heroes in civilian life, the Congressional Medal of Honor Society has placed these figures on the Citizen Honors medals.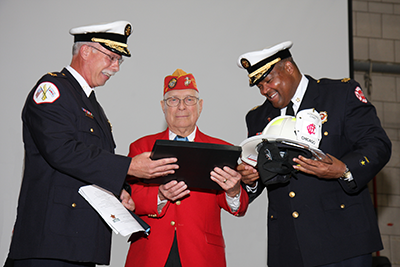 While the Medal of Honor commemorates the valor of a unique few, and the Tomb of the Unknowns symbolizes the service of those who made the ultimate sacrifice, Citizen Honors recognizes ordinary citizens who have accomplished extraordinary acts on behalf of their fellow man.
Nomination Criteria and Process
Criteria
WHO CAN NOMINATE: Anyone who is aware of a fellow citizen, neighbor, co-worker, or ordinary American, a hero among us, who without the expectation of fame or reward, has placed others before self in some extraordinary way.
WHO CAN BE NOMINATED: Any United States civilian who through a singular act of extraordinary heroism, or through a prolonged series of selfless acts, clearly demonstrated a willingness to place his or her own life at risk for others. In all cases, the actions being honored must epitomize the concept of "service above self" and must be performed "above and beyond" one's professional or vocational area of responsibility or conduct.

Please note: nominees who are deceased are eligible. Nominees must be a U.S. citizen. Nominees must be 18 or older. A singular act of heroism must have occurred within the last three years. A series of acts of long-term selfless service must have been ongoing within the last three years.
How To Nominate a Citizen Hero
Complete The Congressional Medal of Honor Foundation's Citizen Hero Nomination form to nominate a "Citizen Hero".